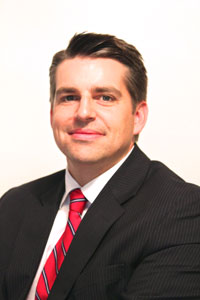 Tom was born in Elmira, NY on September 29, 1980 at the Arnot Ogden Memorial Hospital. As a lifelong resident of the Southern Tier, he has come to know many of the good people who have also chosen to make this area their home. Upon graduation from Elmira Free Academy, Tom chose to earn his Associate's Degree from Corning Community College the following year, and then attended the State University of New York at Buffalo for two years, earning a Bachelor's Degree in Political Science with a concentration in Pre-Law. The following fall, he enrolled at Hofstra University School of Law for his first year of law school. After his first year in Long Island, Tom heard the calling of upstate New York, and decided to transfer back to the State University at Buffalo School of Law.
Upon graduation in 2004 from law school, he came home to his roots in Elmira, NY and began working at the Chemung County District Attorney's Office as an Assistant District Attorney. At the D.A.'s Office, Tom handled thousand of cases in Chemung County Court, Elmira City Court, and various town and village courts. After three years of prosecuting felony and misdemeanor cases throughout Chemung County, he left the D.A.'s Office to join the practice at the Law Office of Thomas W. Reed II, PLLC in Corning, NY. In 2011, Tom joined the Steuben County District Attorney's office as a part-time prosecutor, handling criminal cases throughout Steuben County, but assigned mostly to the western and northern areas. In 2013, Tom left the Steuben D.A.'s office and joined the Public Defender's office as a part-time assistant public defender, handling criminal defense matters for indigent clients in the local courts in the eastern areas of the county.
Throughout his career and relying on the invaluable experience gained in his former capacities, Tom has vastly expanded the areas of his practice to include collections, civil litigation, real estate transactions, family law, and divorce law, among others. In 2012, he became a partner at Yorio, Ferratella & Bowes. As a partner at Yorio, Ferratella & Bowes, he handles legal matters including Real Estate, Criminal Defense, DWI, Wills & Estates, Personal Injury, Municipal, Family, Divorce, and Contract Litigation.